Despite the overwhelmingly digital nature of my life these days, I am still in love with paper and pens. Granted, I don't get to use them as often as I used to when I was in school but I still enjoy a well-balanced pen that writes smoothly and crisply and a fresh pad of paper. To satisfy this need, I have a Moleskine notebook and a Pilot Hi-Tec-C pen and I try to keep them close to me wherever I go to jot down quick notes and thoughts. However, keeping a pen with that notebook has always proven to be harder than I thought, at least until now.
I came across the Quiver, a product by Quiver Global thanks to The Gadgeteer. It's an elastic and leather contraption that attaches to a hardcover notebook and holds a pen or two for you. The single-pen version slips over the spine of your notebook and the double-pen version slips over the front cover. Though I only wanted a single-pen holder, I didn't want that version interfering with my ability to keep the notebook open and write in it, so I opted for the double-pen version since that slides on over the front cover instead of the spine.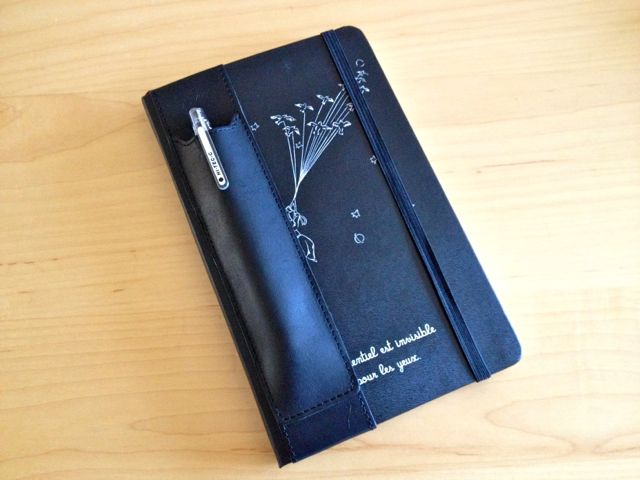 The picture above shows what it looks like on my 5-inch by 8.25-inch Moleskine notebook (a Le Petit Prince limited edition version that I purchased through Amazon
).
I find that it works very well and doesn't interfere much at all with my ability to write in the notebook. I use my notebook to jot down to do lists, outline projects and sometimes a little poem or bit of prose here and there. When I leave the house, the notebook almost always goes with me if I'm carrying a messenger bag and/or my laptop.
You can order the Quiver from Amazon here
 or directly from the company's own online store here. Feel free to send me a message if you have any questions at all about it.
The version of the Quiver I have fits notebooks with covers between 8 inches and 9.25 inches tall. It does not fit the Morris Lessmore Dodocase for the iPad that I reviewed recently, in case you were wondering (its cover is 10 inches tall).
Given how little I use pens these days, my pen collection is very lackluster at the moment. However, I do have a unique stainless steel pen with a neat holder and a Hi Tec C cartridge heading my way eventually thanks to Kickstarter. I backed the Pen Type-A back in September and they've been having trouble with fabrication so delivery is taking far longer than expected (which seems to be normal for every Kickstarter project I've backed to date) but I'm looking forward to receiving that. I'll definitely post about that when I receive it since it's a unique item not yet available anywhere else.