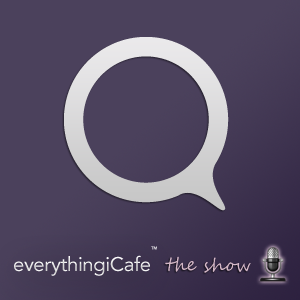 Chris Meinck and I recorded episode 64 of the everythingiCafe.com podcast earlier this week and it's now available through iTunes. If you like our show, please do subscribe! (I'd recommend Downcast if you're looking for an app to manage your podcast subscriptions on the iPhone or iPad, by the way.)
Chris and I talked about iPhone 5 (or 6, if you want to get technical about the number of iPhone generations to date) rumors, more 7-inch iPad rumors, and some news about iOS 6. We also revisited our respective predictions of the date of the new iPhone's release. Chris's guess is September 28 while mine is October 5. Hopefully we'll learn who's right sooner rather than later.
We received a question from Craig, aka @4forkssake on Twitter, about what we don't want to see changed in the next iPhone. This prompted a list of things from both Chris and me that included the location of the headphone jack, the width of the iPhone, and the physical home button. Thank you for the question, Craig!

My Teh Awesome this week was the new Mint QuickView app for the Mac. I use Mint.com to get a thorough snapshot of all of my accounts at a quick glance and regularly use the iPhone and iPad apps. I'm now using the Mac app as well (you can see my write-up of it at AppShopper) and I like it a lot. It's free and makes it even easier to stay on top of your finances on your Mac without having to use a web browser to access your account through Mint.com's site.
Chris's selection fell into Teh Suck category this week with some apps that fail to close properly and prevent shutdown of his Mac running Lion.
I missed posting about the last couple of episodes but those are available as well in iTunes if you want to go a little backward in time and listen to those. 🙂