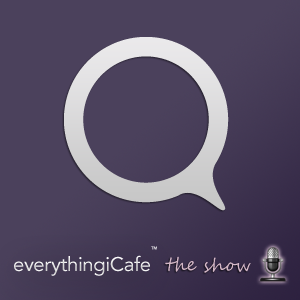 Chris and I recorded episode 61 of the everythingiCafe.com podcast a few days ago and it's now available for your listening pleasure through iTunes. We talked about Apple's new Podcasts app, rumors about NFC in the next iPhone model, and more rumors about a smaller dock connector in that new iPhone, and more.

Chris's Teh Awesome was iHandy's Flashlight app for the iPhone that helped him out a lot during an electrical outage last week. My Teh Awesome was the new Launch Center Pro app by App Cubby. Launch Center Pro is a utility app that lets you create shortcuts to complete actions in other apps. For example, you can create shortcuts to immediately dial a FaceTime call with a selected contact, do a Google search in Safari, and much more. As I said in the podcast, I think it's more of a pro user app that has a lot of potential but takes time to set up. If you want more information about Launch Center Pro, check out Chris's review and my post about it at AppShopper.
I should note that my off-the-cuff definition of skeuomorphism when we talked about the new Podcasts app wasn't entirely correct. Here's the definition according to Wikipedia:
[frame]A skeuomorph or skeuomorphism is a derivative object that retains ornamental design cues to a structure that was necessary in the original.[/frame]
There's a section in that Wikipedia article that references iCal in Lion as I had mentioned in the podcast. I can't stand its torn paper look and these design elements serve no actual purpose other than to try to make the application look like a paper-based calendar, which is silly. I much prefer the cleaner, no-nonsense look of iCal in previous versions of OS X and hope Apple goes back to this soon. (It looks like iCal is a tiny bit less obnoxious in Mountain Lion but still contains many skeuomorphic design elements, unfortunately.)
I'm happy to note that I fixed the sound driver problems on my end that degraded the overall audio quality of the podcast in the last few episodes. Some LogMeIn remote access software was the culprit and I definitely don't plan to reinstall it until this is addressed.
I hope you enjoy our podcast. If you have any questions or feedback, please feel free to email us at podcast@everythingicafe.com.