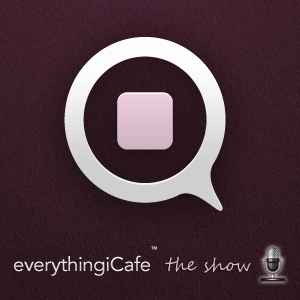 Chris Meinck and I recorded episode 37 of the everythingiCafe podcast this week and it is now available for download through iTunes. As always, you can use the embedded audio player here (unless you're on an iPad or iPhone) to listen to it if you'd rather not go all the way to iTunes to get it.
We talked about a lot of iOS 5 and iPhone 5 rumors, which all point to releases in October for the latest version of Apple's mobile device operating system and the new iPhone model. I don't know about you, but I am more than ready for a new iPhone model – although I'm still pretty happy with my iPhone 4, I'd really like to get past the never-ending rumors and get to real news. Hopefully Apple will announce its press event to unveil the iPhone 5 soon.
We also talked about a funny observation made by the acting president of HTC's American division who doesn't believe that iPhones are "cool" anymore following a visit to his daughter's college.
Chris's Teh Awesome earned him a little teasing from me since he selected a flashlight app for his iPhone 4. Surpax Technology's Flashlight saved his bacon during the power outage caused by Irene a couple of weeks ago.
My Teh Awesome was the SAS Survival Guide app for the iPhone. I have some paranoid leanings, particularly related to any Zombie Apocalypse (and any t-shirts referencing said apocalypse) that may occur, and the SAS Survival Guide provides a ton of information on how to survive in a variety of environments should all hell break loose and civilization shudder to grinding halt in the face of a catastrophic event. If you've ever wanted instructions on how to trap and kill wild game, field dress their carcasses, and use every last bit of meat, bone, and fur to help you survive in the wilderness, this is the app for you.
(For the record, I'm also getting a survival guide in paper form since I'm quite sure that electricity to power my iPhone will be scarce during the Zombie Apocalypse.)
We usually record the podcast every week on Tuesday at 7:00 p.m. ET though our schedule for the next few weeks is a bit tentative at this point. See this thread in the everythingicafe.com forum or the site's Twitter feed to get the most up-to-date information about our recording schedule.