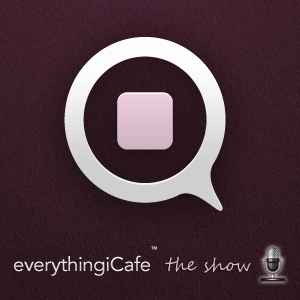 Chris Meinck and I recorded episode 34 of the everythingiCafe.com podcast earlier this week and it's now available for download through iTunes, or you can listen to it right here using the embedded player above (as usual, this does not work on the iPad or iPhone, unfortunately).
We talked about iPhone 5 and iPad 3 rumors, claims of LTE equipment being installed in Apple stores, and we discussed Google's acquisition of Motorola Mobility as well as a few other topics. We also talked about a few of our gripes with Lion. I apologize in advance for my potty mouth during that portion of the podcast.
My Teh Awesome of the week is the new Boxee app for the iPad, which has a neat Instapaper-like feature with a companion bookmarklet for the browser on your computer to queue up videos in your account to watch later. I come across a few videos every day that I want to watch later and can do so easily now thanks to the bookmarklet and the free Boxee iPad app (you can find more info on the bookmarklet here).
Chris's Teh Awesome was the Lion Recovery Disk Assistant, a small download available directly from Apple that will create a recovery disk for you in case you need to reinstall Lion or repair your hard drive.
We've been a little off our regular schedule but we generally shoot for 7:00 p.m. ET every Tuesday, and you can join us for a live broadcast as we record at everythingicafe.com/live. We also save time in every episode for any questions or comments left for us via voicemail at (646) 820-3431 so feel free to leave us a message and we'll play it on the air.