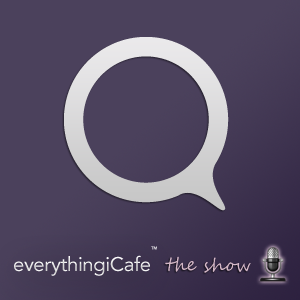 So Chris and I got off on a bit of a tangent at the start of this episode (now available through iTunes) and somehow started talking about the actress Megan Fox. I remembered an odd factoid about her – she has an inherited condition that resulted in shortened thumbs. And that's where the title of this episode came from.
After this tangent, we talked about the first purported iPad mini part leak and speculation about the size and design of the rumored device that indicate it will look like a large iPod touch with a slimmer bezel compared to all iPad models to date. Also on the docket were lots of iPhone 5/sixth-generation iPhone rumors that indicate that the new iPhone will be available for pre-order on the date it's announced, which is shaping up to be September 12 with an actual release on September 21.

My Teh Awesome of the week was the Dark Sky weather app, which I featured on AppShopper here and here. It's a neat app that offers more precise weather information based on your location to give you detailed information on impending precipitation. A recent update to the app added push notifications so you can get alerts about when it will rain or snow in your area 15 minutes in advance. It's pretty neat and has already helped me avoid rain on my dog walks.

Chris's Teh Awesome was the Rhapsody music service and its free accompanying iPhone app. Rhapsody is a subscription music service that lets you listen to any of the millions of songs in the company's catalog and even download music for offline listening on your iPhone. With the Rhapsody iPhone app, you can get a free 30-day trial and if you want to subscribe after that, it costs $9.99 per month.
The upcoming review I mentioned is for the MacBracket for the MacBook Air. The MacBook Air has always lacked a Kensington lock slot so you can secure it using an industry-standard computer lock. Years ago, I had found one enterprising eBay seller who made a lock bracket for the 2008 MacBook Air, which I reviewed. MacBracket is a German company that has designed similar brackets for the various MacBook Air models and they were kind enough to send me a version that works with the late 2010, mid-2011 and mid-2012 models so I can try it out with my mid-2011 11-inch MacBook Air.
If you enjoy our podcast, we'd really appreciate it if you'd subscribe to it in iTunes and/or leave us a review.
[frame]I missed posting about episode 67, "I am not a thumb model" and you an find the details about what we talked about in that episode at everythingiCafe.[/frame]