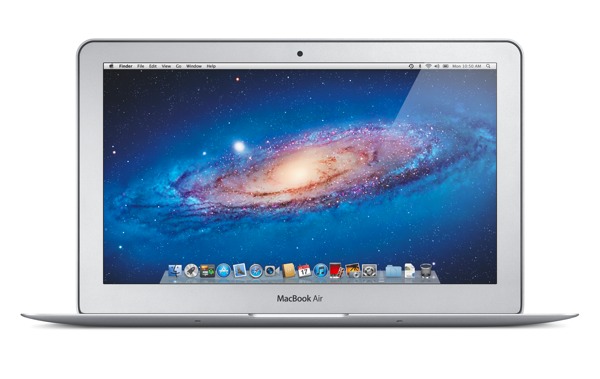 While at CES, I was incredibly lucky and won a new 11-inch MacBook Air at a NetShelter event on my last night there. Upon entering the party, we were asked to throw a business card into a bowl and I happily obliged. And then I immediately forgot about the drawing as soon as I got inside the nightclub and located the open bar where there was a bartender who was willing to give me as many on-the-rocks margaritas as I wanted.

After I had managed to make several of those fantastic margaritas disappear, the party was paused for the drawing I had forgotten all about. The first prize given away was an unlocked Samsung smartphone and the second prize was a Sony Vaio. When my name was called for the MacBook Air, I raised my arms in Rocky-victory style and screamed. And I did a little happy dance, which approximated Kermit the Frog's frantic arm-waving stage exiting maneuver on the Muppet Show, on my way to pick up my prize. I'm pretty sure I made an ass of myself. I blame the margaritas.
As I was leaving the event with my boss and Chris Meinck to grab some dinner with my MacBook Air in its shrink-wrapped box tucked under my arm, someone gave me some sage advice. A petite woman wearing a strapless blue dress and tottering a little in her strappy 4-inch stilettos, stopped me with a hand on my arm. She smiled brightly and said "Don't get mugged!"
I blinked. "Uh, thanks. I'll try not to," I replied. I think she had had even more margaritas than me.
Once the margaritas wore off and I was thinking straight, I wasn't actually sure if I would keep it at first. After all, I had a top-of-the-line 13″ MacBook Air with a larger SSD already (for which I had paid a whopping $2,499 in 2008, a mind-boggling price Apple reduced to $1,799 a few months after I bought it. Bastards). But I opened the box anyway and decided to give it a try. It was so tiny and sleek!
Shortly after I got home, it didn't take long for me to decide to keep it and I set up my new MacBook Air with all of the applications I needed, my email accounts, etc., and put my old MacBook Air up for sale on Craigslist. It sold fairly quickly and I don't miss it one little bit.
The Core i5 and i7 Sandy Bridge processors in the 2011 MacBook Airs are impressive. Anandtech did an extensive review of both the 11-inch and 13-inch MacBook Airs that debuted in July 2011 and the benchmark data there showed me that even the base 11-inch model I had won out-performed the older 13-inch high-end model I had had (you can see the full specs for that 2008 MacBook Air at EveryMac here). As one example, Intel's Turbo Boost feature lets the 1.6 GHz i5 in the 2011 11-inch MBA hit 2.0 GHz or even higher.
The new MacBook Airs also have Thunderbolt ports, which offer input/output speeds of up to 10 GBps. Unfortunately, Thunderbolt hard drives are still very expensive and I'm going to wait before investing in one of these.
I'm also thrilled that I didn't lose the backlit keyboard I'd gotten used to on my old Rev. B MacBook Air. Apple had skipped this feature in the previous generation of MacBook Airs and I'm glad it made its way back to this line of ultra portables. Even though I'm a touch-typer, it really is a feature I rely on and value highly.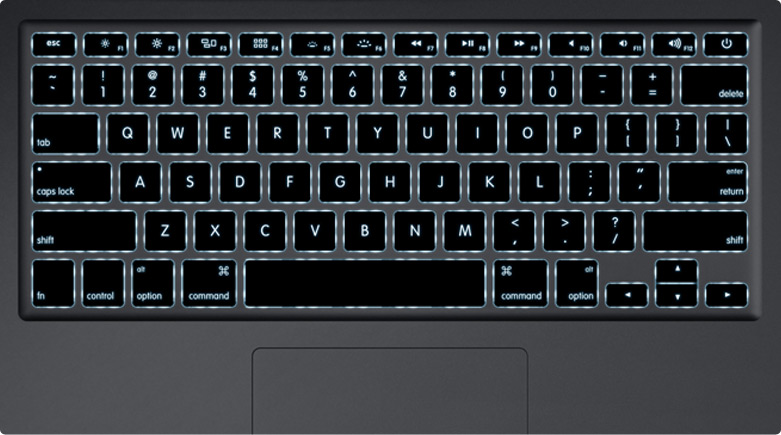 If you already have a 13-inch MacBook Air and are thinking about making the switch to an 11-inch model, here are a few points for you to consider:
While there's not much difference in weight, the 11-inch MBA really is far more portable than the 13-inch model. It's just a tad wider than my iPad in its Vaja case and a couple inches longer, for some perspective. I can pack it into many bags that wouldn't fit a larger laptop and therefore "camouflage" it a little by using a bag that isn't an obvious laptop bag. This is a big plus for me in a larger city like Boston that's not as crime-free as I'd like.
The loss of screen real estate was my biggest concern going from the 13-inch model to the 11-inch model. Anandtech notes the following:


"At 1366 x 768 you get great pixel pitch on the 11-inch 16:9 screen but there's just not a lot of vertical resolution on the display. The 13-inch model gives you only 5% more horizontal resolution but 17% more vertical, and that's noticeable."

Despite this, I have to say it's not really that bad. I find myself being just as productive on the smaller screen. What helps here is pixel density – the new 11-incher has a higher resolution (1366 x 768) horizontally and nearly the same number vertically compared to my old 13-incher (1280 x 800). YMMV if you're coming from a newer laptop with a great screen to begin with, though. I should note that the MacBook Air is not my primary computer though. It's secondary to a 27-inch iMac. For some of the work I do a larger screen is really helpful and I don't think I could make do with the 11-inch MacBook Air as my only computer.

If you're coming from a Rev. A or Rev. B MacBook Air like me, you should know that having two USB ports is divine. I'm not quite sure how I made do with just one for three years. I used to do that USB shuffle every time I needed to charge my iPhone or use my SD card reader but was already using my 3G modem. Thank you, Apple!
If you're coming from a 2010 MacBook Air or a plastic MacBook, don't underestimate the value of a backlit keyboard. It really can be helpful, particularly on planes when flying after dark or when you're parked on your couch in the evening.
I lied a little before when I said that I don't miss my 2008 MacBook Air at all – there is one feature it had that's missing in my new one: the pulsating sleep indicator light. From what I can tell by a little bit of online research, Apple stopped including the sleep indicator light on the MacBook Airs in 2010.
I've always loved the sleep indicator light. My beloved 12-inch PowerBook, which was my first Mac laptop, had one and I thought it was fantastic design element and useful to boot. I didn't even realize that Apple no longer included this feature and thought something was wrong with the 11-inch MBA when I first got it. A little Googling revealed that this wasn't the case.
I suppose I can get my sleep indicator light fix through Adafruit's iNecklace, which is now on my to-buy list.
If you have any questions about going from a 13-inch MacBook Air to the 11-inch model, feel free to ask me.
Also, thanks goes out to NetShelter who provided a conveniently-located blogger lounge on the show floor at CES, held a fun mixer event at the Tao nightclub and gave away great door prizes there!