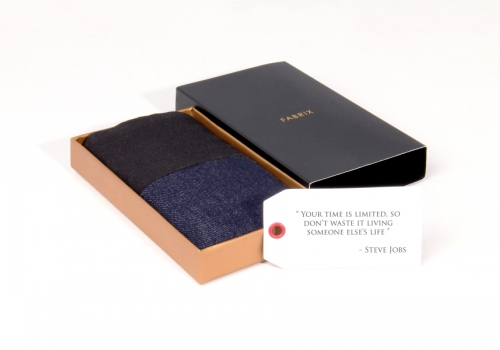 The Steve Jobs tribute case by Fabrix that I mentioned earlier this month has arrived. Fabrix began offering these cases as a tribute to Steve, designing them out of denim and black cloth as an homage to his penchant for jeans and black turtlenecks. It's called the Fifth October case to note the date of Steve's death.
It came packaged simply just as pictured on Fabrix's site along with a small card with a randomly-selected quote by Steve Jobs. The card that came with mine says "Stay hungry, stay foolish."
Materials
Fabrix doesn't state exactly what fabrics are used in the Fifth October sleeve but the bottom portion is dark blue denim and the black top portion feels like a canvas cotton material. It's lined with a quilted black fabric that feels like satin.
The sleeve has a little padding to protect the iPhone from "light bumps and knocks" according to Fabrix's site.
It has a black ribbon loop on the inside top edge so you can run a lanyard through it if desired.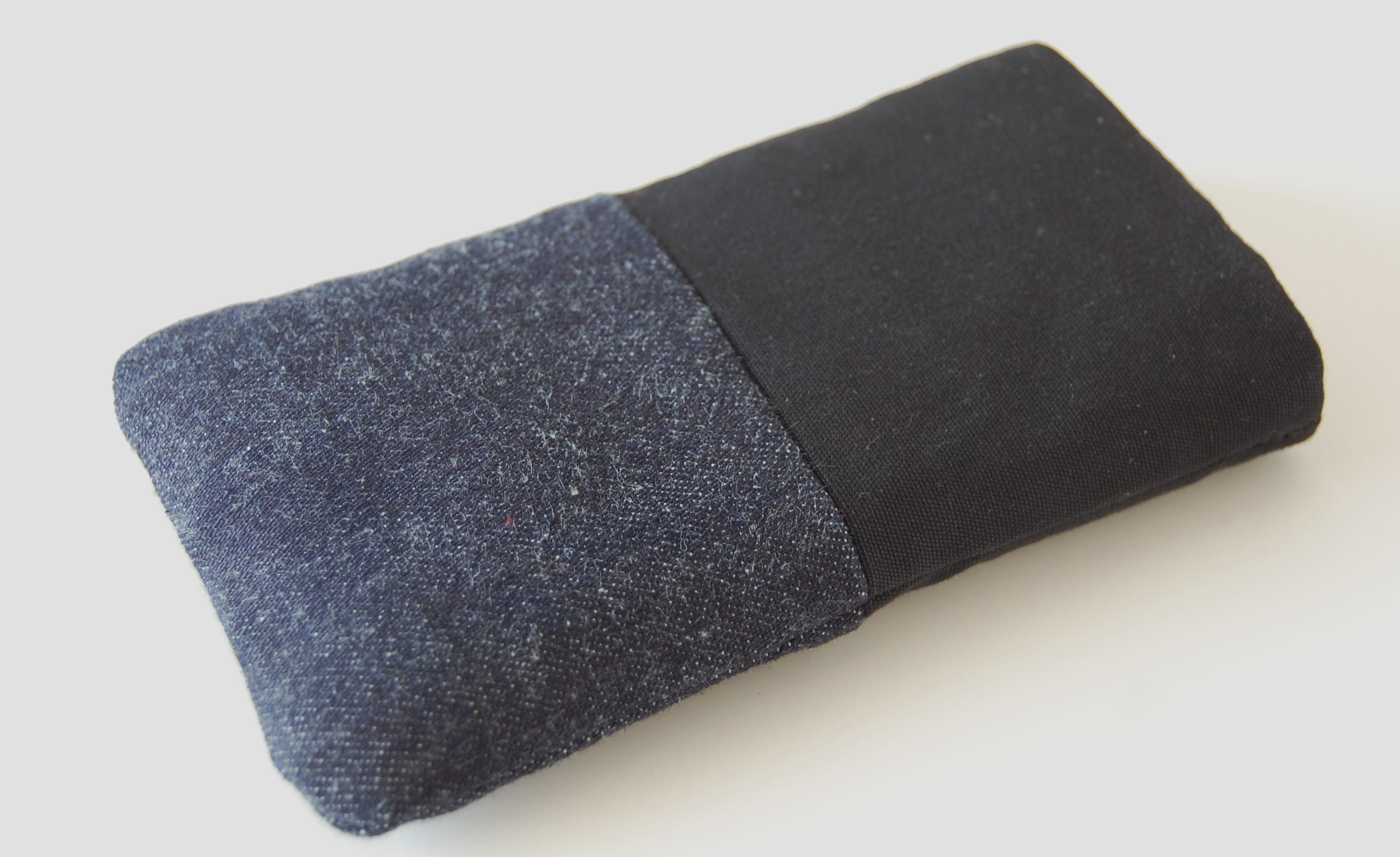 True to the sleeve's description, there are no logos or other marks on the sleeve to denote its manufacturer or anything else.
Each sleeve is completely handmade in Singapore while each quote card is individually handprinted and stamped in Singapore as well. Hence, no 2 sleeves or quote cards are the same. These sleeve are not made using sweatshop labour nor are they mass-produced in China.
Fabrix states that their cases are hand-made in Singapore and the Fifth October sleeve feels generally well-made overall.
Using the case
In order to use your iPhone, you have to remove it completely from the case. If you place your iPhone with the headphone jack facing the opening, you can still use wired headphones of course.
I primarily use sleeve cases for storing my iPhone in a larger bag when I'm out and about (I've been using the Proporta Maya pouch for years now like this) and the Fifth October serves quite well to protect my iPhone in my purse.
The case is snug enough that my iPhone 4S doesn't fall out on its own if I hold the case upside down, which is nice. Removing the iPhone takes a little bit of shaking or you can just hold the sides of the sleeve and push up on the bottom to "eject" your iPhone manually.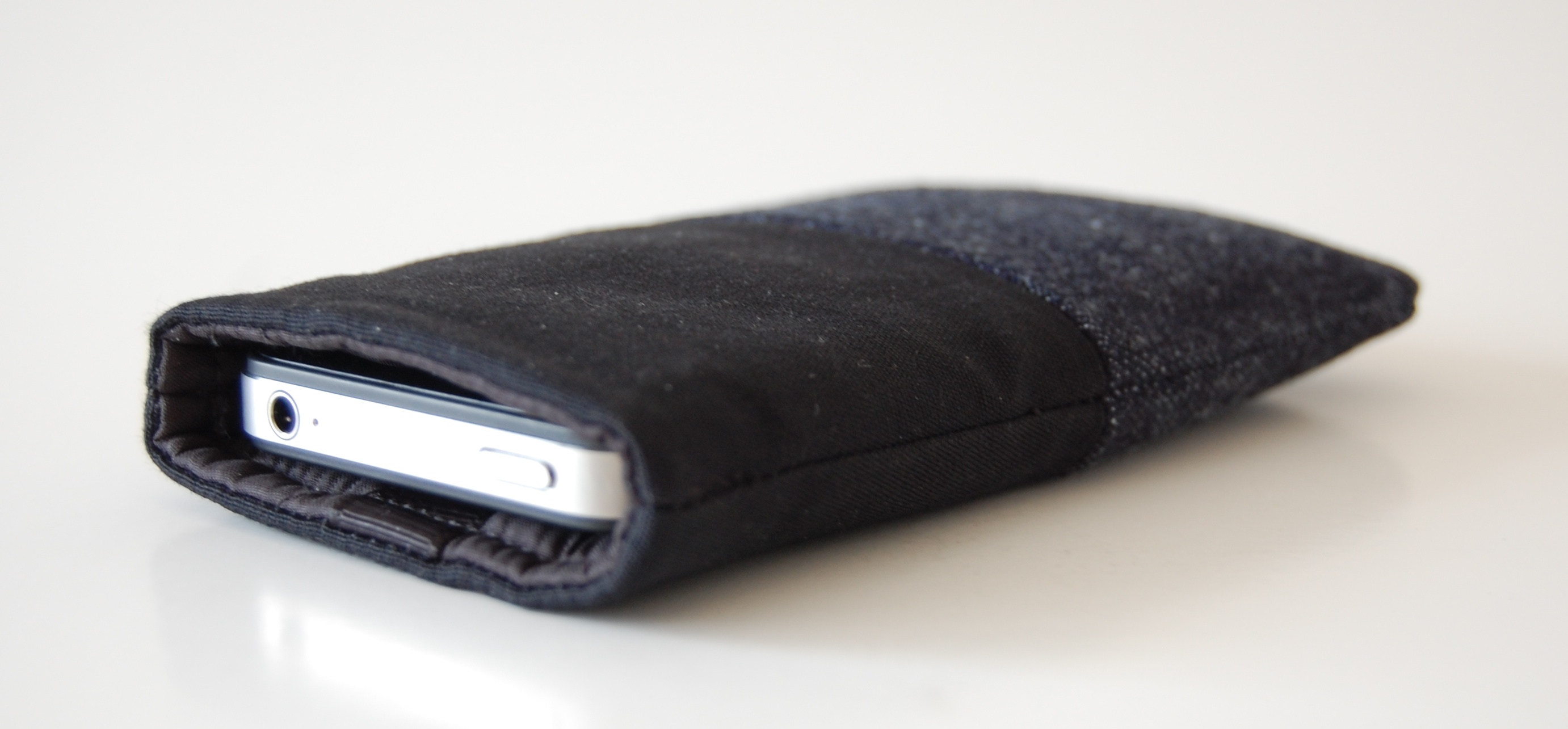 The Fifth October sleeve is meant to hold a naked iPhone. It works perfectly with my iPhone 4S and the
SGP Steinheil EX screen and body protectors
that I
recently installed
. However, it doesn't really work with the
Incipio Feather case
– I can jam my iPhone into the sleeve with this case on but it's a tight fit and it will probably stretch the sleeve out over time, so it's not something I plan to do regularly and I don't recommend using the sleeve like this.
(Of course, this sleeve also works with all other iPhone models – I covered all of the iPhone form factors by testing it with an old first-generation iPhone I still have and my husband's iPhone 3GS and it fits all of them perfectly.)
Conclusion
Pros
Well-made
A subtle and tasteful reminder of Steve Jobs
Very reasonably priced
Cons
The Fabrix Fifth October case is a well-made case that's a tasteful tribute to Steve Jobs. As I mentioned when I ordered this sleeve, I'm not usually a fan of products like this but Fabrix handled this well, particularly given its low price of $10. Regarding this low price point, Fabrix says they "believe that every and anyone who would like to own it should be able to do so without a pinch."
You can order the Fifth October sleeve directly from Fabrix here. As I write this review, Fabrix has posted a note on the cases's product page indicating that they've received a lot of orders for this case, so it may take a little longer to get to you as they catch up. Also, Fabrix makes only limited runs of each case model, so if you want one of these, you should order it now because they will probably stop making it in a month or two.
Disclsoure: I purchased this case with my own money – it was not provided to me as a review unit.