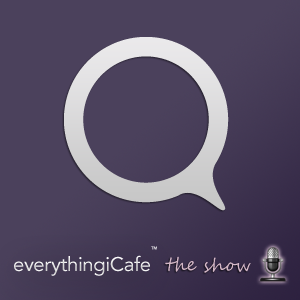 Chris Meinck and I recorded episode 48 of the everythingicafe.com podcast earlier this week and it's now available for download through iTunes. As always, you can also listen to it here using the embedded player above if you're using a Flash-capable browser.
Chris and I talked about Apple's Q1 results for fiscal year 2012, which were absolutely phenomenal. We also talked about the jailbreak that just came out for A5 devices running iOS 5, Absinthe. (And I think I'm going to be trying that jailbreak myself this weekend – I do miss me some LockInfo.) Also on our topic list was the report claiming that there have been more than 350,000 downloads of textbooks in the iBookstore and a few other items.

Chris's Teh Awesome for the week was Thermostapp, a free iPhone app that lets you control a compatible Wi-Fi enabled thermostat. If I had a Wi-Fi-enabled thermostat, I'd totally try this app. Unfortunately, while we have some nice programmable thermostats in our house, they work just fine and don't need to be replaced and I don't think I could convince my husband to replace them when it's not necessary. 🙁

My Teh Awesome was the free iPhone game, Tiny Tower. I admitted a little bit of shame in liking this game so much since it's a little Farmville-like but I've been surprised at how much I've been playing it, trying to place my little Bitizens in their dream jobs and completing the various missions. It's completely free to play and I definitely recommend it if you like games where you create and manage your own little virtual world.
In case you're keeping track, I did not post about the last podcast episode that we recorded last week, #47 – Crappy Earth Science. I've been struggling a little getting back into my groove after attending CES but I'm finally getting back on track. You can see more about this episode over at everythingicafe.com here.
[frame]

To make up for my lack of posting here recently, I have a few codes to get paid apps for free to give away, courtesy of Starbucks and their free Pick of the Week cards. If you want one of the codes, all you need to do is write a comment on this post. Feedback on my site and/or our podcast would be appreciated and be sure to specify which app you want. Make sure your email address is legit – I'll email you the code using this address (email addresses are not published for the world to see, FYI).
Here's what I have (these links open iTunes):
MadPad for iPhone ($.99) – 7 codes expiring February 14, 2012
Scrabble for iPhone ($1.99) – 3 codes expiring March 20, 2012
One code per person, please. These codes are valid for U.S. iTunes store only and they expire as indicated above. Instructions on how to redeem codes can be found on Apple's support site here.[/frame]