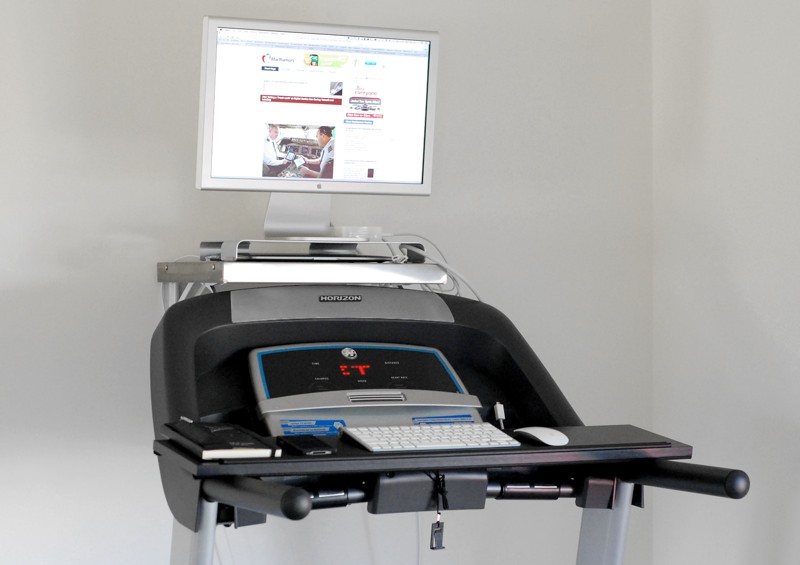 I first heard of treadmill desks a few years ago through a feature segment on a news program and was immediately intrigued by the idea. I was, and have always been, concerned about my health (and waistline) as I get older and worried about the sedentary nature of my job – spending a lot of time sitting at a computer (gym membership and volleyball leagues notwithstanding) does nothing to help me keep my girlish figure. This, combined with the fact that I love french fries, made me determined to get a treadmill desk at some point in the future.
Fast-forward several years to the present when I now have a job where a treadmill desk would be ideal since I work from home and though I love my Aeron chair, I finally had the time and resources to put together my ideal treadmill desk set-up. Read on for the details about the design process and my now-complete set-up.
I decided to build my set-up based on a solid treadmill first that could not only handle walking but occasional running as well. I think I read every review online for a handful of treadmills in my desired price range (around $500) and finally settled on the Horizon Fitness T101 treadmill
. Most of the reviews for it on Amazon were very positive and I managed to get an open box deal that saved me a little money over Amazon's regular price for it, even after purchasing a Squaretrade extended warranty also just in case.
I wanted to get used to the treadmill first and then build a desk around it, so I ordered the SurfShelf stand to use my laptop while working to at least get feel for how it would all work. The SurfShelf is a portable, adjustable shelf made to use a laptop while on a treadmill or other piece of exercising equipment. It turned out to work pretty well overall, though it wasn't very ergonomic for long periods of time since I had to look down at the computer screen and my arms were not at the recommended 90º angle. However, it was a good interim solution as I thought about and planned my permanent treadmill desk set-up.
At first, I designed a large desk that would arch over the treadmill's control panel and act as a stand for my laptop and monitor with a second lower level for my keyboard and mouse. I measured everything and even sketched out how it would look, but I was worried that such a tall desk would be hard to make stable and while I wasn't afraid of building it myself, my wood-working skills have never been tested by such a large endeavor. I showed this plan to my engineer husband and he also thought it would be difficult to build a stable desk that tall to fit over my treadmill so I went back to the drawing board.
I briefly considered the TrekDesk
, a ready-made, adjustable treadmill desk, but thought that it would be way too large for my needs and it was more than I really wanted to spend (as I write this post, it costs more than $500 from Amazon). Also, I found it to be a bit unattractive, frankly, and didn't want to uglify the corner of our family room where this was all going to go any more than necessary.
Drawing inspiration from my husband's set-up for our home theater system that includes a wall mount for our HD projector, I mapped out a wall-mounted shelf that would accommodate my computer and monitor and decided to go very simple for the keyboard and mouse with just a flat board (with rubber backing of some sort) across the treadmills arms for my keyboard and mouse. This seemed like the simplest way to go, as did my husband, and so I set about purchasing everything.
Here's what I ended up buying:
Combined with the 20-inch Apple display, 11-inch MacBook Air and Bluetooth keyboard and mouse I already had, here's what my final set-up looks like: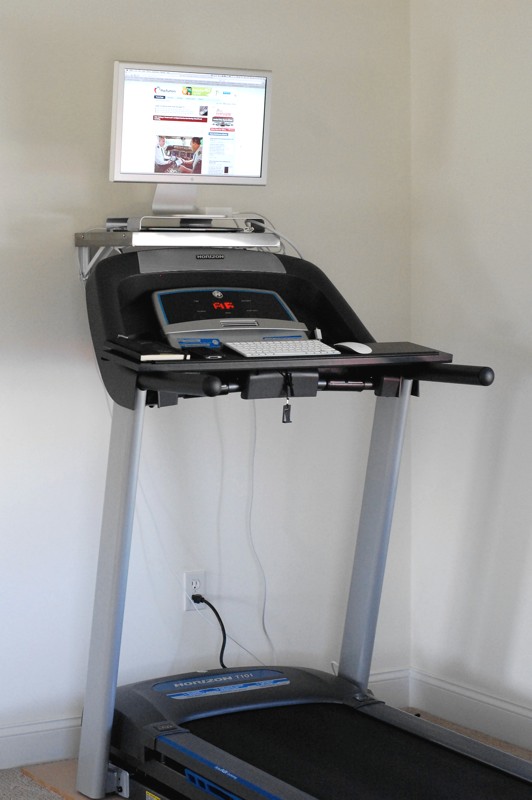 I had wanted a wall-mounted shelf that was metal to help heat dissipate from my MacBook Air better since I would be operating it in clamshell mode with this set-up and the RiversEdge folding desk was the best option I could find online. I don't even plan to use its folding feature but it can hold up to 75 pounds and while it doesn't perfectly match my display and Laptuk stand, it's not too bad. So far, it's working perfectly.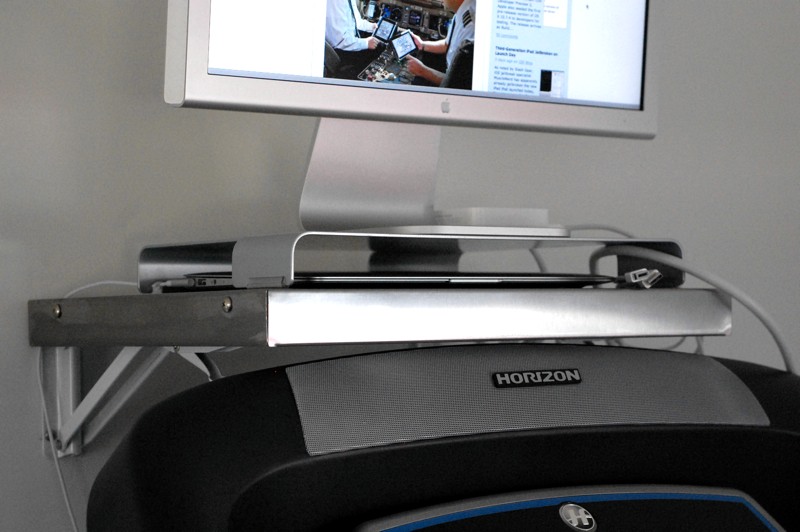 The wood shelf for my keyboard and mouse was just $6 from my local Home Depot, where I also found some adhesive weather-stripping for it. I put two strips on the back so it would rest on the treadmill's arms without scratching them and offer some grip so it would stay in place without sliding around. I put one more strip on the top of the board at the bottom edge to prevent my keyboard and mouse from sliding off. It's an incredibly simple solution but it works fantastically, allowing me to place the board anywhere on the treadmill's arms and it has some extra room to hold my iPhone and a notebook as well.
So that's my set-up and I really like it so far. I don't walk very fast – usually just around 1 mph. I'll go a little faster if all I'm doing is reading a long article but I slow down again to type. I've found that, even though I walk slowly, it can be very tiring and after three or four hours, I want to sit down. I'll usually break for lunch at this time and get back on the treadmill afterward. By 3:00 or 4:00, I'm usually very tired and then I go to my regular desk and sit in my lovely Aeron chair and finish the day working at my iMac.
I feel much more energized during the day, not to mention the fact that I feel much better about myself overall. And my Polar heart rate monitor tells me I'm burning about 150 calories per hour. Bring on bikini season!