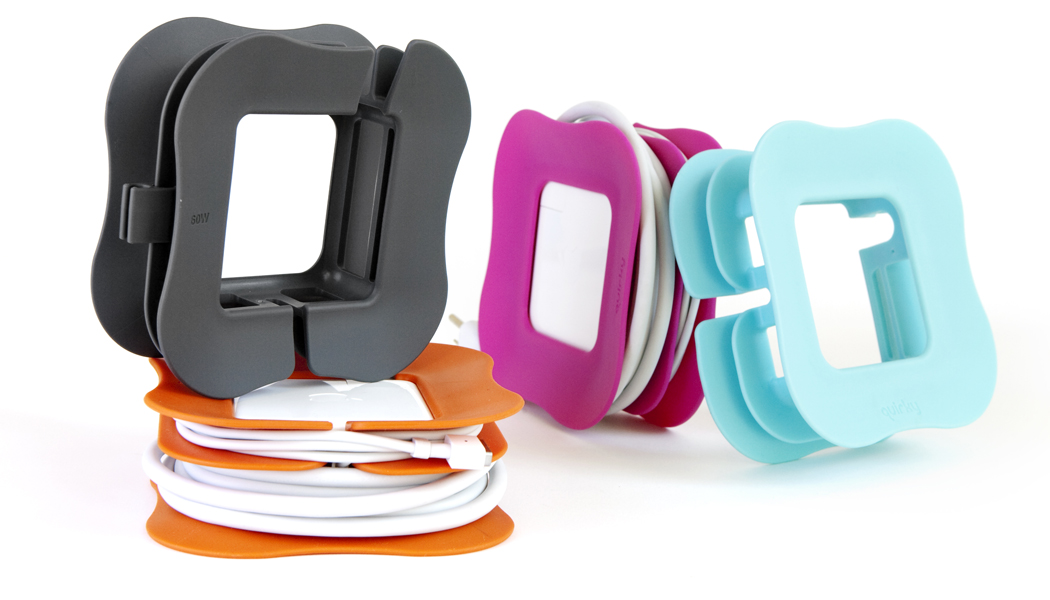 While I admire the split design of the power cord for Apple's portable computers, they're not the easiest to wind up neatly when you're using both of the included cords. I find myself carrying and using both of them when I'm about and about so that I can reach power outlets that are more than 5 feet away from me and to avoid blocking an outlet that could be used by someone else with the power brick.
To solve this problem, designer Jeff Scholen created the PowerCurl, a product idea that was submitted to, refined, and created through Quirky. I helped influence the PowerCurl (a tiny, tiny bit) during the design phase and purchased one when they became available for retail sale and it has been a staple in my gear bag ever since. Read on for my review and a video overview of it in action.
Note: This is the second in my series of reviews of items that are regulars in my gear bag. The first was of the Just Mobile Laptop Cooling Bar, which I reviewed here.
Models
The PowerCurl comes in three different sizes to accommodate the 45-, 60- and 85-watt power cords of the MacBook Air, MacBook, and MacBook Pro, respectively. It's available in several colors, including blue, green, gray, and orange though not all sizes are available in all of these colors. I have the 45-watt model in orange. All sizes and colors of the PowerCurl cost $14.99 and are available for purchase through Quirky's site here.
Materials
The PowerCurl is made out a flexible plastic with a grippy rubberized texture. It's flexible enough so that you can pop the power brick into it easily yet stiff enough that it keeps its shape over time with regular use. The orange color is a nice deep color that's easy to find inside the confines of a gear bag with a dark lining but not obnoxious enough to be embarrassing to use in public.
The PowerCurl comes with an extra piece – a small clip that attaches to the thicker portion of the power cord (near the outlet plug) so that it can be snapped onto the rest of the cord to keep it wound up. See my video for a demonstration of how this works.
Design and Usage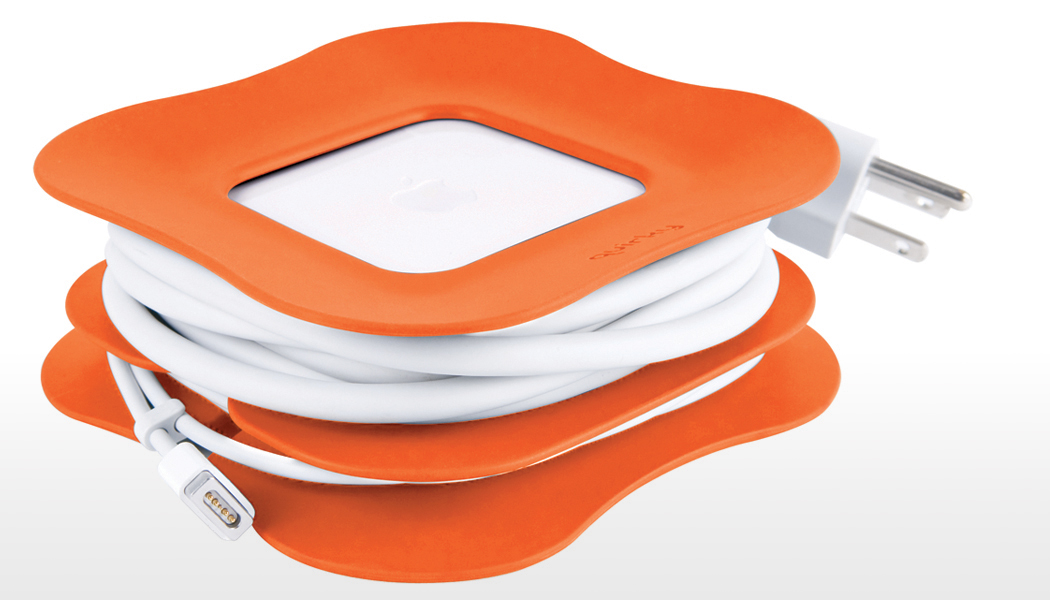 One of the purposes of the PowerCurl is to keep your power brick elevated to help keep it cool. I've never really had any trouble with my Mac laptop power bricks overheating (or even noticed it, to be frank, since they're usually not close enough to me so that I even notice the temperature) so I've never really gauged whether or not this works. The principle does make sense, however, especially if you intentionally rest the PowerCurl on an edge so air can circulate around both sides of the power brick.
When it comes to the primary purpose of keeping your power cord neat and organized, the PowerCurl excels. While you'll still have to manually wind your power cord around the PowerCurl, it does an excellent job of keeping it in a neat little bundle. It works so well that I have never wanted or needed to remove my power cord from the PowerCurl once since I received it and I don't envision ever needing or wanting to in the near future.
For those of you who frequent conferences or coffee shops, the PowerCurl gives you the added benefit of helping you more easily spot your own power cord among others.
Summary
The PowerCurl is a simple, inexpensive product that does exactly what it promises when it comes to keeping your portable Mac's power cord wrapped up neatly. I haven't encountered a single negative aspect about the PowerCurl while using it for the past year. If you're looking for a useful accessory for yourself or as a gift for a slightly-OCD Mac laptop owner, I highly recommend the PowerCurl.
If you're an iPhone or iPad owner, you may be wondering if something like this exists for the USB cords and power adapters of these devices as well and you're in luck. Some enterprising inventors are in the process of producing a similar product called CableKeepers through Kickstarter. I've backed this product and will therefore get one of the first batch of these made in December or so and will review it then. If you want to know when this review is posted, subscribe to my RSS feed or follow me on Twitter.