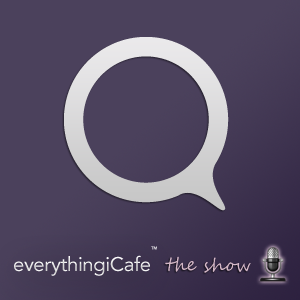 Chris Meinck and I recorded episode 59 of the everythingicafe.com iPhone and iPad podcast and it's now available in iTunes for your listening pleasure. This is our first episode in several weeks since I was traveling (which was my last trip for this year!). Apologies for our sporadic schedule recently but we really do hope to get back on our regular schedule after Chris and his family finish their move.
Chris and I talked about new iPhone rumors, the upcoming iOS 5.1.1 jailbreak, and more reports of an impending 7-inch iPad to be released later this year. Hit the break for more plus our selections for the Teh Awesome segment of the podcast.
Chris and I covered some iPhone 5 (or iPhone 6, if you want to be more accurate to reflect all iPhone generations to date) rumors, which are all pointing to a larger screen. I would welcome a larger screen in the new iPhone though I do still get a little hung up on Dustin Curtis's point (as referenced by John Gruber) about thumb reach, an issue I already encounter on the iPhone 4S with its 3.5-inch display. A larger screen would probably require two hands to use for someone like me, making the new iPhone a bit unwieldy to use when I have only one hand free.
We also talked about the Absinthe jailbreak, which has been released since we recorded this episode a few days ago. I jailbroke my iPhone 4S the day Absinthe 2.0 was released and am back to using LockInfo, a utility that I've missed more dearly than I'd anticipated, and a couple of other minor tweaks. I've got a future blog post in mind describing why I jailbreak and what apps and utilities I use, so stay tuned for more info on LockInfo and others.

My Teh Awesome of the week was the Flight+ ($2.99) app for the iPhone. During my last trip to Arizona, it was very useful to stay on top of changes to my flights via push notifications plus additional information on the planes and airports involved. For a more in-depth look, check out the article I wrote over at AppShopper about it.

Chris's Teh Awesome was Appetites for iPhone, a free step-by-step video cooking app. Appetites offers 30 virtual cooking classes for free with others available via in-app purchase.
Thanks for listening to the podcast and please be sure to email us at
podcast@everythingicafe.com with any questions or comments!
Also, happy Memorial Day! Thank you to all the men and women who served in our military and died to keep our country safe.