Through Google Offers, I recently had a chance to get a Case-Mate product at a discount and chose the
iPhone 4/4S Pop! Case with Stand
. There are a few different cases in the new Pop! line and this one has a pop-out stand on the back to hold the iPhone upright in landscape or portrait orientation. This case retails for $40 and comes in a variety of colors. I chose the all-black color option and after using it for a couple of weeks, I've found it to have some great features combined with a handful of negative aspects that put it just out of the running as my go-to case for my iPhone 4S. Read on to find out why.
Materials
The exterior of the case is a mix of glossy plastic, which Case-Mate calls PolyCore, and texturized rubber. The rubber portions are along the sides where you'd naturally hold the iPhone for a phone call and add good grip.
The flip-out stand on the rear is made of the same glossy plastic as the rest of the majority of the case and is stamped with the Case-Mate name and logo. Below the edge side that flips out is a small cut-out so you can slip your fingernail underneath it to flip it out.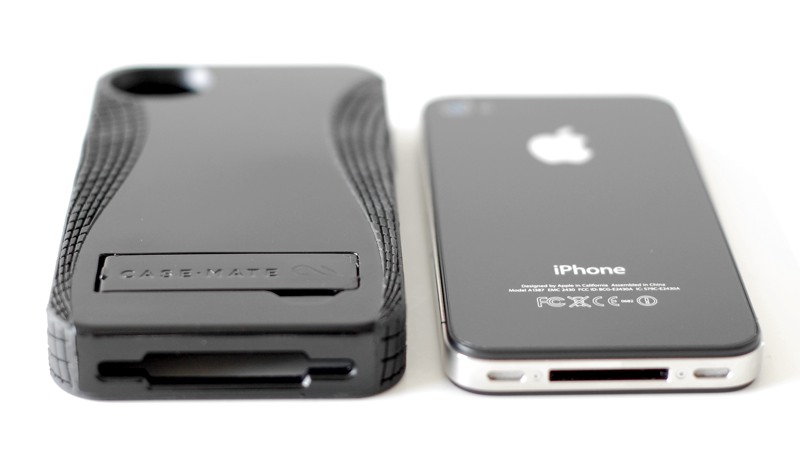 The interior case is also textured rubber, which Case-Mate calls DuoFlex material, making the Pop! a hybrid case with a soft interior and harder outer shell. CaseMate's Pop! line is an analog to Speck's CandyShell line, a very popular hybird hard/rubber line of cases that's gotten very good reviews over the past few years.
I'm not a huge fan of glossy plastic cases since they can become scuffed and scratched more easily in my experience and they collect and show fingerprints much more than I would like. True to my expectations, the Pop! With Stand shows a few light scratches with regular use over a couple of weeks and shows fingerprints far too easily for my tastes.
Cut-outs and access
There are cut-outs for the headphone jack, camera lens and flash, and dock connector. The headphone jack cut-out was large enough for my after-market headphones (V-Moda Remix Remote headphones) and the camera cut-out is quite large and doesn't affect the flash in dark conditions. The ring/silent toggle cut-out feels a little small but is still usable. The dock connector cut-out easily accommodates the thinner connectors of the USB cords that come with the newest iPhone but doesn't accommodate the older, fatter connectors on cables that came with older iPods or those of some 3rd-party accessories.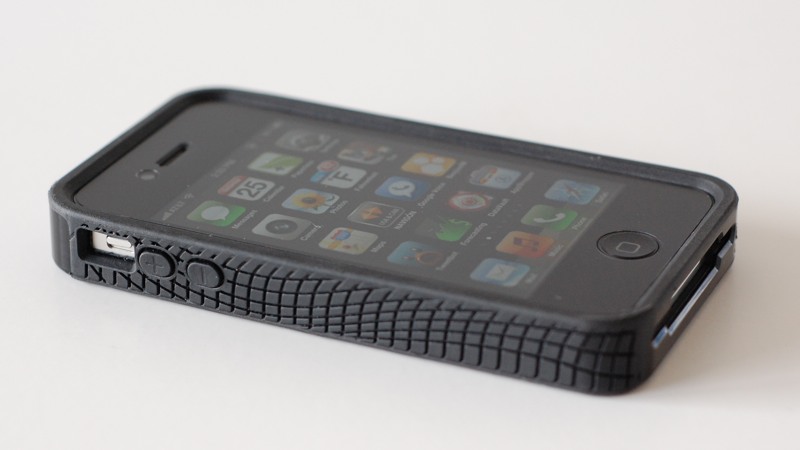 There are built-in button covers for the sleep/wake switch and the volume buttons on the side. These are rubber and still offer good tactile feedback though I find the sleep/wake switch a bit harder to press than the volume buttons.
The Pop! With Stand extends a little bit over the front of the iPhone and frames the screen with a small band of rubber. This offers the screen some protection if you place it face down on a table, which is nice. This band is narrow and does not interfere with a screen protector you may have installed and cause the edges to bubble up – at least the one that I use, the SGP Steinheil EX Ultrafine Protector.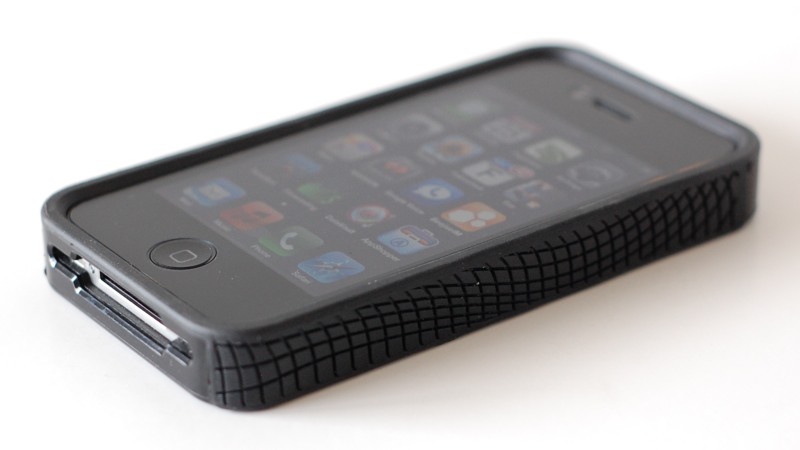 Using the case
In daily use, the Case-Mate Pop! With Stand did not hinder my ability to use my iPhone as I normally do (phone calls, web browsing, text messaging, playing games, etc.). In fact, there were a few activities that I found more enjoyable while using the case. I would prop it up on my desk using the flip-out stand while sitting at my computer, giving me a better view of the screen to see incoming notifications. While traveling and staying in a room where there was no clock, the case let my iPhone double as an alarm clock (using the excellent Alarm Clock HD app by Alarm Clock Company) very easily.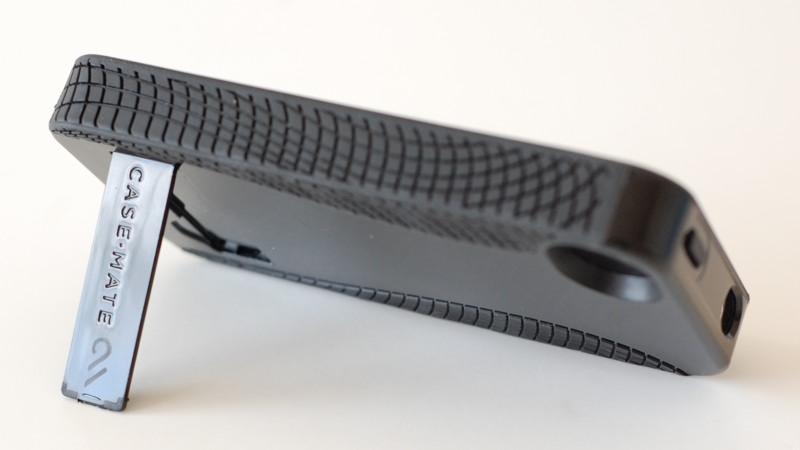 There were a few areas where I had some trouble with the case that are admittedly particular to the way I use my iPhone and the accessories I have for it. First, the case is wicked hard to remove. My
car's set-up
only accommodates a naked iPhone and taking it out of the Pop! With Stand case was a small exercise in frustration and worry that I would break something each time.
Next, the case was bulkier than I was expecting. I didn't exactly expect it to be as slim as one of my other cases, the Speck PixelSkin HD
, but the shape of the Case-Mate Pop! With Stand seems to bulk up the iPhone 4S quite a bit, enough that it was far less comfortable to put in the front pocket of my jeans, which is where I normally carry my iPhone when I'm out and about.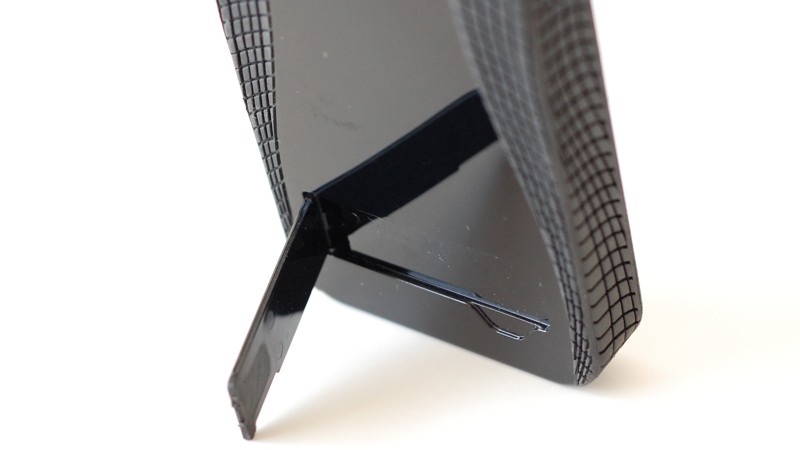 I had a chance to compare it directly to a Speck CandyShell (not Speck's version with the flip-out stand) and noticed that Speck rounds off the edges of the case on the back, giving it a slightly slimmer profile and making it easier to hold. I think Speck has Case-Mate beat with this particular design element when it comes to this line of hybrid cases.
Summary
I wanted to love the Case-Mate Pop! With Stand but I ended up only liking it and it's not my first choice to protect my iPhone when I leave the house. Though I feel like it would offer good protection from a drop and I love the utility of the stand and would recommend it for anyone who uses their iPhone as an alarm clock or frequently watches videos, the added bulk of the case and the difficulty in removing my iPhone from it put me off.
Pros:
Stand makes viewing videos or using iPhone as nightstand as alarm clark very convenient
Rubber interior combined with harder outer shell offers good protection
Front edges provide some protection when face down on a table
Does not interfere with my screen protector (SGP Steinheil EX Ultrafine Protector)
Cons:
Glossy plastic portion shows fingerprints and scratches easily
Much bulkier than expected
Incredibly hard to remove the iPhone
Comparison to Speck CandyShell View
I haven't seen a Speck CandyShell View, Speck's version of a hybrid case with a pop-out stand, in person but iLounge has posted a good review of it. Based on iLounge's review, it sounds like Speck's case suffers from one of the same negatives: it's hard to remove the iPhone from it, just as I found with the Case-Mate Pop! With Stand. Both Speck and Case-Mate have priced their hybrid hard cases with pop-out stands at $40 though I do prefer the look of Speck's matte finish and I like their color choices better than Case-Mate's overall.
[frame]Disclosure: I purchased this case with my own money – it was not provided to me as a review unit by Case-Mate or any of its affiliates/resellers.[/frame]
I hope you found this review helpful. If you have any questions about this case, feel free to ask me using this Contact form.