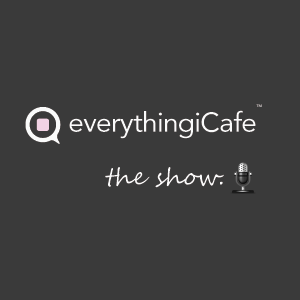 Chris Meinck and I recorded episode 39 of the everythingiCafe.com podcast last night and it's now available through iTunes. You can listen to it here using the (gasp!) Flash-based player embedded in this post if you don't want to schlep all the way over to iTunes. (I know, I know. The Flash bit is part of my site's theme – I swear I didn't know about it when I chose it.)
We talked about the release of the iPhone 4S and our thoughts on it so far. Chris wrote a thorough review of it in case you're still not sure about upgrading or switching over to the latest iPhone and want some nitty-gritty details. Also on our agenda were some problems with it Sprint subscribers are seeing as well as some screen issues that seem pretty widespread.

My Teh Awesome of the week was my iPhone 4S (of course) and the new Vaja Libretto case I got for my iPad 2 that I mentioned the other day. Chris's choice this week was formerly a Teh Suck selection in a previous podcast: the Navigon MobileNavigator turn-by-turn navigation app for the iPhone. He'd had a bad experience with it on his iPhone 4 but it's working flawlessly on his new iPhone 4S now and he's going to be returning the stand-alone GPS unit he recently bought in favor of it.
We're shooting for next Tuesday evening at 7:00 p.m. ET for our next episode. If you want to catch us live, you can get the latest news on when we'll be recording/broadcasting by checking this thread in the everythingiCafe forum or following @everythingicafe on Twitter.
Oh, and if you're an aspiring technology blogger, Chris is hiring for everythingiCafe.com and his other sites – there are both paid and volunteer positions available. See the full job posting here. If you can't already tell from the podcast, Chris is a great guy and working with him is fabulous.