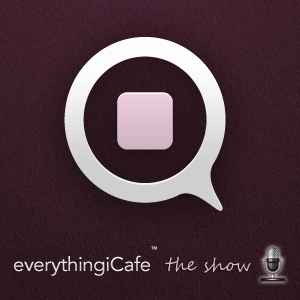 After a short break in our recording schedule since I was out of town last week, Chris Meinck and I recorded episode 42 of the everythingicafe.com podcast on Tuesday evening and it's now available for download through iTunes. (If you're on a Flash-capable device, you can also listen to it right here using the embedded player above.)
There were a lot of topics on the agenda to catch up on two weeks of news and rumors. We talked about iTunes Match, iOS 5.0.1, iPad 3 rumors, and Siri, including a statement that purportedly came from an Apple rep stating that Siri would not be made available on older devices. Chris doesn't buy this but I think it's probably true.
Chris's Teh Awesome this week was Photo Stream. He enjoys this new feature available through iCloud with iPhoto, devices running iOS 5 and the Apple TV 2.

My Teh Awesome was the P90X app that came out late last week. For those of you who don't know, it's a popular home fitness program that was released in 2003 consisting of defined workouts (available via DVD) and a diet plan. I completed the program earlier this year and was happy with the results and I was very excited to see the official app debut. It offers all of the guided workouts (via in-app purchase) and lets you track your meals and progress. I purchased all of the workouts so I can exercise without being stuck in front of my TV and DVD player.
I don't have any more trips planned that will pull me away from the podcast until January (CES 2012 – w00t!) so I think we're back to our regular Tuesday evening (7:00 p.m. ET) recording schedule now. To stay on top of our recording schedule, check out this thread in the everythingicafe.com forum or follow the site on Twitter.