[frame]This review was originally posted on my old site, macgirl.net in March 2009 and is for a lock bracket that was sold on eBay for the MacBook Air models available at that time. This bracket is no longer available for sale but you can buy a similar one for the MacBook Air from macbracket.com.
If you have a newer MacBook Air model made from 2010 through 2012, stay tuned for an upcoming review of the MacBracket lock bracket for these models.[/frame]

If you own a MacBook Air, you may be worried about your ability to keep it secure in an office environment or coffee shop since it lacks the Kensington lock slot usually found on portable computers. I worry about this myself and learned of a possible solution through a thread over on MacRumors.com – an enterprising seller on eBay has made a custom bracket that fits through one of the MacBook Air's hinges and acts as a makeshift slot through which a Kensington lock can be secured. Does it really work? Does it damage your Air in the process? Read on to find out…
The eBay description for the bracket states that it is made of high grade stainless steel and that the height of the slot allows for room enough to allow you to reach the keys without it interfering. There is a significant warning included, noting that the bracket is intended for use only when the MacBook Air is open and that it could be damaged if you attempt to close it while the bracket is in use. This warning makes complete sense when you look at the pictures of the bracket in action – it's clear that trying to close the MacBook Air's lid will press the bracket against the screen and cause some significant damage if forced. Before you think about it, I'm not testing this with my MacBook Air. If you'd like to send me yours to see what would happen, I'd be more than happy to test it for you. 😉
Material
As I mentioned, the bracket is described as being made of high grade stainless steel. No details are provided on which grade of steel (and there are many, according to this Wikipedia article), but it feels at least as sturdy as our everyday silverware and flexes only slightly when I try to bend it with my bare hands. I think a much stronger person could bend it, but only with very good leverage which would be quite difficult when the bracket is inserted into a MacBook Air's hinge with a lock attached. In this situation, I don't think there's anything about the bracket that could be exploited without a blow torch or major cutting tools to remove it, and at that point, the lock itself or its cable would be better targets to break down.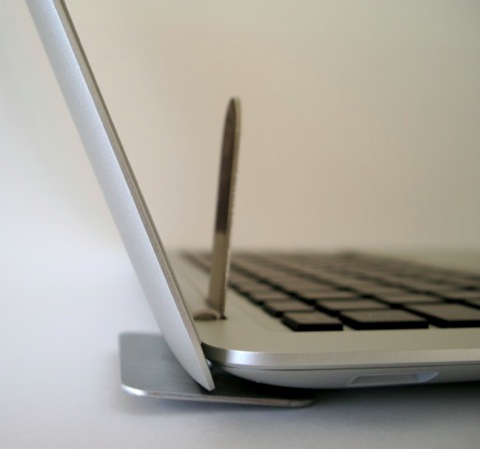 Installation
The bracket slides into the opening created by either one of the hinges when the MacBook Air is open. The bracket must be slightly angled in order to fit into this opening – it doesn't go in straight up and down and the base does not fit completely flush on the table once it's fully inserted, though it doesn't affect the stability of the MacBook Air while typing on it.
Once inserted, the part that sticks up has a slot sized for a Kensington lock in it and it's here that you attach your own lock (the bracket does not come with one). It's easy to attach the lock – this part of the bracket is far enough away from the keyboard that it's not hard to do this.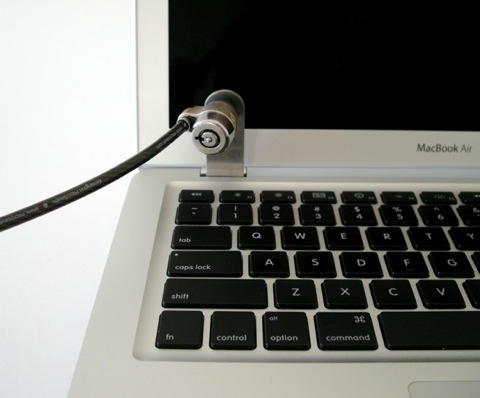 To remove the bracket when you're done, simply unlock the Kensington lock and then slide the bracket back through the hinge opening. It's fairly small and easy to carry in your bag and whip it out when you need it.
Using the bracket
When installed and a lock is attached, it doesn't really hinder the keyboard when your hands are properly placed with index fingers at the F and J keys, as I learned in my Keyboarding class in high school, unless you reach for the Escape and F1 keys a lot. It also doesn't hinder the screen angle at all for normal use while sitting at a desk, unless you must use your MacBook Air with its screen at less than a 90-degree angle from the keyboard for some reason.
If you pick up the MacBook Air the bracket attached and locked, it may slide down and the lock will bump the keyboard. This is really a solution meant for a stationary MacBook Air, of course.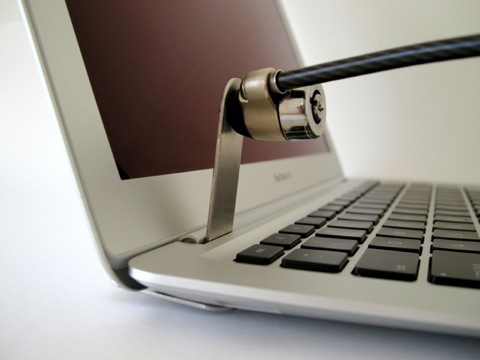 My only concern about the bracket is that it has some serious potential to scratch your MacBook Air. None of the surfaces are cushioned with foam or anything, and it's thick enough that there's friction when you slide it through the hinge opening. The MacBook Air rests against the top side of the lower portion of the bracket and frequent movement could lead to rub marks on the bottom of your Air at that point. I plan to buy some adhesive-backed foam to put here to avoid this.
Conclusion
In terms of security, the bracket and lock present a reasonable physical deterrent to thieves – they won't be able to take off with your MacBook Air unless they thoroughly damage the computer, or somehow get it detached to what's anchoring the cable, or cut the lock's cable itself. Remember that no security measure prevents a determined, tool-laden thief from getting what they want. But I do think that the bracket provides an easy, highly-portable solution to the missing lock slot on the MacBook Air, particularly if you already have a Kensington lock in hand, like me, that you used with previous portable computers.
At $14.95 plus shipping, which was $2.10 for me, I think it's a little pricey for what it is (the raw materials needed probably cost less than $1.00 per bracket, thanks to my engineer husband's quick materials guestimation) but it's not bad in the grand scheme of things and completely solves the problem of locking down my MacBook Air when I need to. And I'm more than happy to pay someone for their ingenuity and craftsmanship, and I left the seller positive feedback on eBay for it and think it was a very worthy purchase.