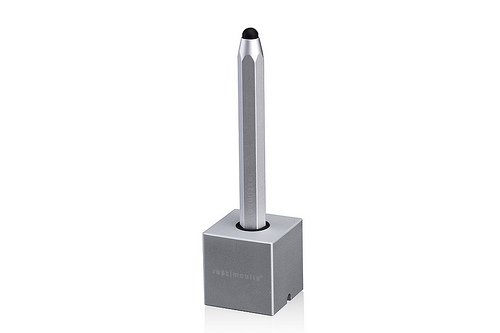 If you couldn't already tell, I have a bit of a thing for styli. One of the first styli I acquired last year was the Just Mobile AluPen, a chunky stylus reminiscent of the fat Crayola crayons I used as a child. To go along with this stylus, Just Mobile has created a desk stand called the AluCube to store the AluPen in ready position while matching your other Apple products at the same time.
Just Mobile has been lauded for its product designs before and the AluCube + AluPen combination appears to be no exception when it comes to sleek minimalism. Read on my for my review to see if this package is a worthy addition to your desk.
Materials
The AluCube is made out of a solid block of aluminum weighing in at almost 5.5 ounces (150 grams) on the food scale in my kitchen. It has a matte finish that matches Apple's current product line-up almost perfectly. The Just Mobile logo is lightly etched on one side and is actually a little difficult to see unless you're looking for it (yay for discreet branding!).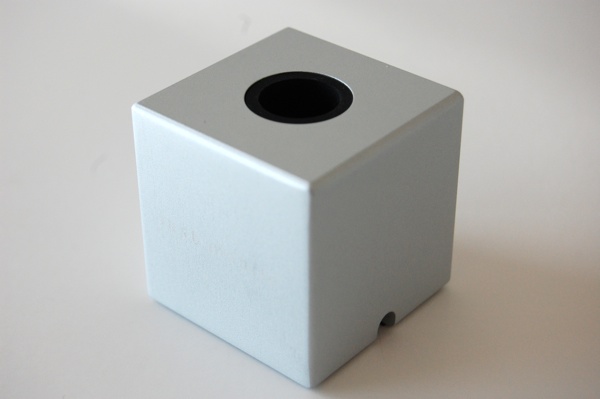 The base is covered in rubber so it stays put on your desk and there's also a groove through the center so the stand can also act as a weighted cord keeper (it's perfect for the USB cord for your iPhone or iPad).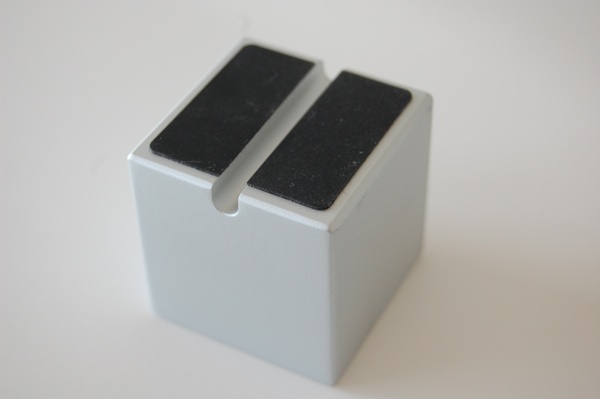 The hole for the AluPen is lined in black rubber and is cut to keep it perfectly upright for those of you with an eye for perfect symmetry in your desk accessories.
The AluPen is also crafted of aluminum and has a matte surface. It is 4.7 inches long with a diameter of 1/2 inch. It's hexagonal shape ensures it won't roll away from you on a flat surface. The stylus has a rounded rubber tip that won't scratch the screen of your iPhone or iPad. It's compatible with all devices with a capacitive touchscreen.
Functionality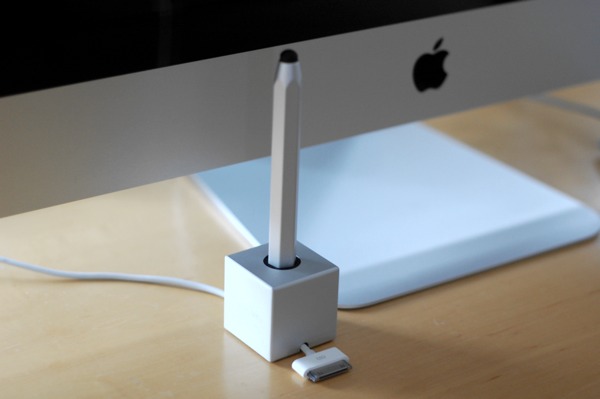 The AluPen is stored in the AluCube tip-up, which feels a little awkward since I have to flip the stylus around to use it. I think it would have made more sense to let it be stored tip-down, like most traditional desk pen stands, so that it's even quicker to use after removing it from the AluCube.
The stylus works well though I must admit that I'm a little spoiled by the Jot Pro Stylus that has a different tip style altogether and is more precise overall in my view. You can see my review of the Jot Pro stylus and why I favor it over rubber-tipped styli like the AluPen here.
Conclusion
The AluCube doesn't take up much space on my desk and complements my iMac and other Apple products nicely. The cord holder functionality is also handy for the extra USB cord I keep plugged in to my iMac for my iPad.
Overall, the AluPen feels very good in the hand with its wider-than-average body and solid weight. When it comes to finer precision for taking notes on an iPad (I have tiny handwriting), I prefer the Jot Pro over the AluPen and any other similar rubber-tipped stylus.
The AluCube + AluPen isn't an absolutely necessity for someone like me since I rarely take hand-written notes on my iPad while sitting at my desk where they reside. However, if you're an artist who draws frequently on the iPad while at your desk or simply love sculpted, minimalist accessories for your Apple products, the AluCube + AluPen is a lovely package.
The AluCube + AluPen set costs $39.95. As a set, they come only in the brushed aluminum color while the AluPen comes in a variety of colors when purchased alone. You can buy the AluCube + AluPen from Amazon here (affiliate link) or directly from Just Mobile's site here.
[frame]Disclosure: The AluCube + AluPen was provided to me by Just Mobile as a review unit at no charge. Despite this, my review here is my honest opinion based on my own personal experiences using this set and Just Mobile has not contributed to this review in any way aside from providing the product to begin with.[/frame]
Related reviews: