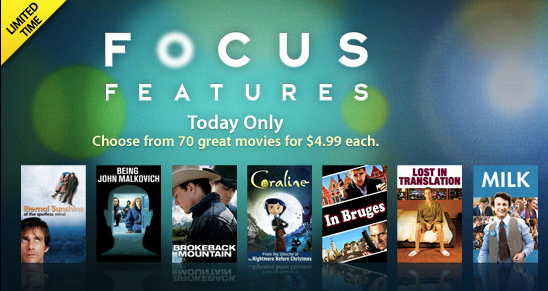 Apple is running a sale today on selected movies, offering them for purchase for just $4.99. Among these is one of my favorite zombie movies, Shaun of the Dead. Also available is In Bruges, a dark comedy about some European assassins that I found funny yet disturbing (although I found Colin Farrell's character intensely unlikeable overall) and Lost in Translation, my favorite Sofia Coppola movie so far (Bill Murray is brilliant, as usual).
You can find them on sale here (links open iTunes) for today (August 16) only:
This list is just a short selection of what's on sale – these are all movies that I've seen and enjoyed. To see a complete list of all the movies on sale for $4.99 today, click here (link opens iTunes).
This sale price of $4.99 is a great deal compared to the normal iTunes rental price of $3.99, which lets you watch a movie as many times as you want within a single 24-hour period once you've started watching it (and you must start watching it within 30 days of downloading the movie or it will expire). This time limit is the primary reason I rarely rent movies from iTunes and usually get my rentals from Netflix instead.
Enjoy!