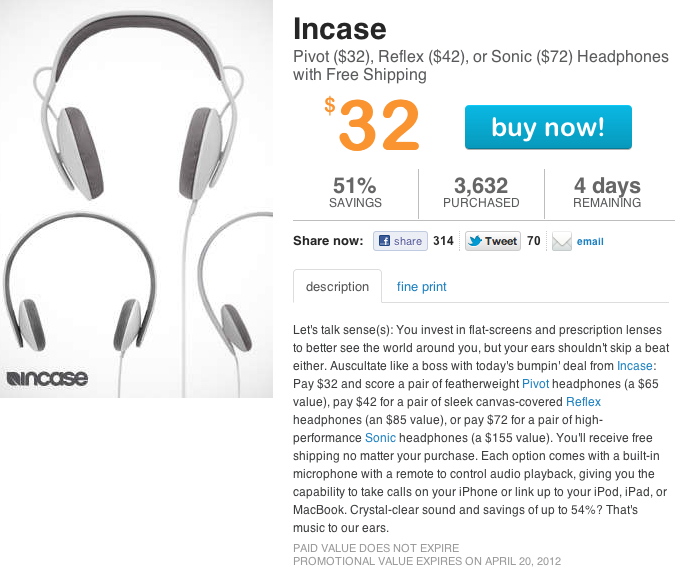 I subscribe to local deal alerts from LivingSocial and Groupon, two of the largest and most well-known deal-of-the-day services in the U.S. This morning, a deal from LivingSocial caught my eye and I thought it may be of interest to you as well if you come to my site for gadget-related information. Today, LivingSocial is offering up to 54% off Incase headphones, bringing the price of the company's most expensive model, the Sonic headphones, down to just $72 (with free shipping) from $149.95.
Incase entered the headphone market last year, a surprising move to me given their focus on bags and other small accessories to date. However, their headphones are decent according to the reviews I've read (you can read one at iLounge here and one at Cut of Mac here) and all of them include an inline microphone and remote control (with volume buttons) that work with the iPhone and portable Macs.
Here's what the LivingSocial deal offers:
$32 for the Pivot headphones (regularly priced at $59.95)
$42 for the Reflex headphones (regularly priced at $79.95)
$72 for the Sonic headphones (regularly priced at $149.95)
Free shipping is included (Incase normally charges between $5 and $12 to ship items within the U.S.).
This deal will be available for 4 more days, making its end date March 19 (I'm not sure of the exact time). You can see the deal and purchase it here. Though I'm not exactly in the market for a new pair of headphones, I couldn't pass this up and purchased the Sonic model.
In case you're not familiar with how LivingSocial and Groupon work, you make your purchase and then you'll receive a voucher via email, which is usually also accessible through the respective iOS apps each company offers, with additional details on how to redeem your purchase. When I've purchased physical products through these companies before, the voucher usually contains a coupon code that can be used to order directly from the offering company's website.
I hope this is useful to you! Please be sure to read the fine print and terms and conditions and know that I'm not affiliated with Living Social or responsible should anything go awry or not meet your expectations.