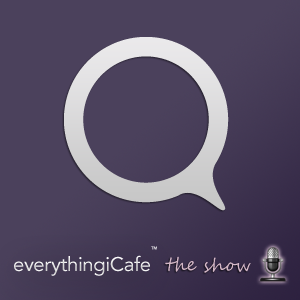 I have been terribly delinquent in posting about new episodes of the everythingicafe.com podcast when they become available. Time has been getting away from me this week and I have been feeling a little bit under the weather, so please accept my apologies for not being quite on the ball recently.
At any rate, episode 58 of the podcast I co-host with Chris Meinck is now available in iTunes. In it, Chris and I talk about iPhone 5 rumors that have cropped up recently, including those about some Liquid Metal components it could contain (a brand name that always makes me think of  Terminator 2 and Robert Patrick impersonating a cop and chasing Sarah Connor) and what is claimed to be the next home button for the upcoming iPhone model. We also talked briefly about Apple's quarterly results for Q2 2012, which were phenomenal as usual.
Also on our agenda was the latest teaser video from Samsung for the next Galaxy S phone in which the company essentially calls iPhone users sheep (you can see that video here). While I'm not personally offended to an extent to be really bothered by this, I do find it puzzling and worrisome that Samsung's marketing folks think that making fun of the people you want to buy your product is a good thing. I can't think that "mock your potential customers" is taught in any marketing class. At the very least, Samsung has turned me off from considering their Galaxy products by this alone.

My Teh Awesome for the week was the eBay app for the iPhone. Though it's been around for a while, it's an app that I use almost daily to browse for yet more gadgets, accessories and designer bags (my one girly indulgence) to buy and to keep an eye on the items I put up for auction to make room for new acquisitions. Chris's Teh Awesome was the SmartFuel iPhone app that helps you find the best gas prices nearby to save a little money when you fill up your tank.
We have not yet recorded an episode for this week but we should squeeze one in within the next few days before I head out of town for a trip early next week. Once that episode is available, my plan is to post about when it's in iTunes in a more timely manner. 😉