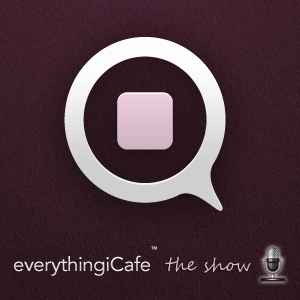 Episode 45 of the everythingicafe.com podcast is now available in iTunes. In this episode, Chris Meinck and I talked about the latest iOS 5 beta, the Mac App Store's latest milestone, rumors about the iPad 3, and more.

Chris's Teh Awesome this week was Apple's Cards app to send a thank-you card to a family member. Cards let him personalize it with a picture and text easily, and even notified him when the card had been mailed.
My Teh Awesome was the retro cassette tape case for the iPhone 4/4S that I mentioned earlier this week. It's superbly cute and nostalgia-provoking (for those of you like me with fond memories of cassette tapes)and is well worth the $3 or so it costs.
[frame]

I still have some free codes to get Smule's MadPad music creation app to thank you for writing a review of our podcast in iTunes. Just write your review (or update an existing review you wrote before) and let me know which one is yours and I'll send you a code. These codes work for U.S. iTunes store accounts only.[/frame]
We've got one more podcast on the calendar for 2011 before we take a break for Christmas and pick up again in January. You can join us as we record live at everythingicafe.com/live next Tuesday at 7:00 p.m. Eastern.