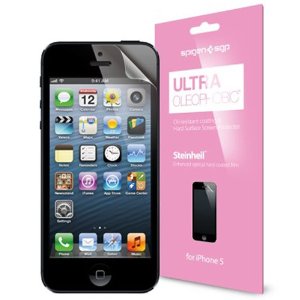 I can't stand fingerprints on my iPhone's screen and even though Apple claims it has an oleophobic coating, it still racks up more marks from regular use than I care to shake a stick at. For my iPhone 4S, I had the SGP Ultra Fine anti-glare screen protector and loved it. For my new iPhone 5, I went with the SGP Ultra Oleophobic version since it was available to order shortly after the iPhone 5 was officially announced.
The screen protector came in the mail today and I installed it within minutes of its arrival. So far, it's absolutely great at rejecting fingerprints much more than the iPhone 5's naked screen and I expect it to work just as well in the long run given my experience over the years with SGP's screen protector products. If you are looking for a crystal clear fingerprint-resistant screen protector, you can order this SGP one through Amazon
. It (you actually get two in the package) costs just $13.99 and is Amazon Prime eligible so you can get free 2-day shipping if you're a Prime member.